Below I'm selling a hi-res Chan Canasta image for printing, which looks great on the wall of a practice and offers a fun talking point.
Chan Canasta – The Original Derren Brown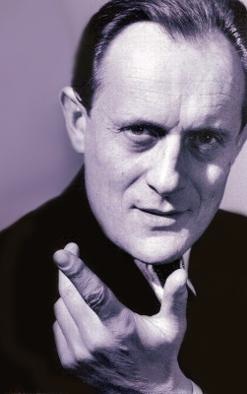 Chan Canasta was a magician on TV in the 60s. He was the first illusionist to fuse suggestion, psychology, misdirection and showmanship. Yes, he was also a huge influence on Derren Brown. I first discovered Chan Canasta when hearing him referenced in the DVD commentary to Derren Brown's Inside Your Mind.
Derren Brown's Chan Canasta Routine
The trick in question was the one where Derren Brown had a subject choose whether to accept the envelope on the left, or the right. Whichever they chose, the money was always in the other. The game was to offer the subject as many chances as they need to "change their mind". Invariably, whether they changed their mind or stuck, the money was always in the other envelope. I imagine that subtle suggestion of false confidence or false anxiety was enough to persuade the subject to change their mind or stick – but it could be a gimmicked envelope for all I know. The same fun routine is often repeated at the start of Derren Brown's stage shows, in different disguises.
This is typical of a Chan Canasta routine. Whilst Derren Brown often relies on a safe trick, Chan Canasta took many chances as he relied mostly on probability. Because of the risk, he would present the routines as "experiments", using showmanship to escape from anything that went wrong. He would sometimes blame the subject for getting it wrong – then take the credit when they got it right – regardless, you couldn't help but warm to his friendly persona.
Chan Canasta was originally polish, and was also an accomplished painter (again, like Derren Brown).
I have a rare half hour Chan Canasta UK TV episode from the six that were broadcast in 1960, and its striking to see the resemblance to Derren Brown.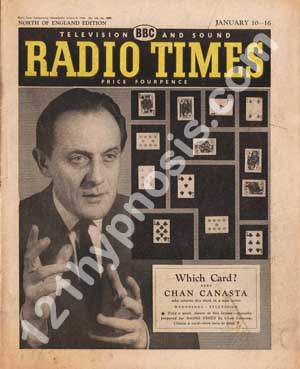 Chan Canasta Image – Print For Your Wall
Chan Canasta Hi-Res Scan, Only 4 GBP
This is a scan of a genuine rare Radio Times cover from 1960. I love this picture – it prints brilliantly and looks great on the wall of a practice, providing a bit of retro charm and a talking point. If ever you hear Derren Brown mentioned (and it happens in hypnotherapy), this makes a good talking point. The picture offers a mini-illusion of its own – with Chan Canasta asking the viewer to pick a card.
Which card did you choose?
Inside the magazine it's revealed that he guessed you would pick the five of spades.
Its based on probability and Gestalt psychology – the other cards are close to the edge or isolated, so you feel "safer" choosing the five of spades. My clients always picked the right card – and its a great little ice-breaker.
After purchase, please click "Return To Merchant" so you can download the full size image – which has a large 30megapixel resolution of 4997 by 6152. There are no watermarks on the download copy!