To understand the Power of Suggestion, you need to appreciate the nature of suggestion and how it works. For example, suggestions should always be in the positive.
If you read 'don't think of a black cat', what do you think of? If only at a subconscious level, you probably thought of a black cat.
That is because you have to think about each word before understanding the grammar. The unconscious works in the same way. So if you think to yourself 'don't worry, don't worry' you are actually programming yourself to worry, because 'worry' is being repeated to your subconscious. Do you see how this works? This is a useful tip for everyday life. For example it is more influential to say 'please be on time' rather than 'please don't be late'. When someone asks you how you are, answering 'not bad' will leave the word 'bad' lingering in their subconscious, which they may then associate with you. So first tip for the power of suggestion: the subconscious takes things literally, one word at a time, and processes all the associations for those words.
TRICK OF THE MIND
As you stare at the dot below, allow the colours to disappear completely as you realise just how flexible your mind really is …now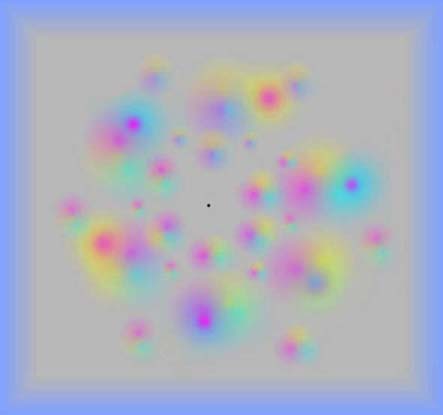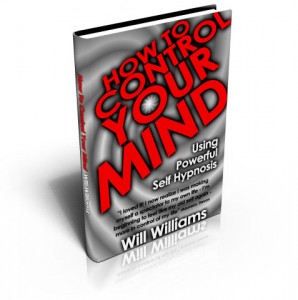 The power of suggestion is based on the psychological mechanism that whatever the subconscious accepts, it acts on. This could be a negative comment blasted down from a parent, a goal that is repeated every night, a self-image belief etc. So the whole idea to use the power of suggestion is to find ways to communicate to the subconscious. This could be to yourself, it could be to others. How do you sneak suggestions past the critical conscious mind – the 'bouncers' or 'guards' of the subconscious?
One method to enhance the power of suggestion is repetition. Think of advertising, or songs on the radio. So remember to repeat the same suggestions with no less confidence or enthusiasm each time you do it. Of course they can also be amazingly powerful when only used once, as this is often how phobias are caused. Self Hypnosis is something that you can get good at and learn more about the more you practice. It is helpful to practice a few times each day, if only for a few minutes.
Another way to boost your power of suggestion? If suggesting to others, you could 'mark out' the suggestion by using 'embedded commands'. You could mark them out by slightly changing your voice, tone, a body movement, a tilt of the head, any subtle difference that the subconscious will recognise, but the conscious mind won't. E.g. 'Its amazing how the sun can make you feel good' or 'yes I can see you were feeling angry, but I wonder if you can relax and calmly explain how you would like to feel better'.
There are many other examples of the power of suggestion, including implication, distraction, association, or metaphor.
Suggestion for goal setting
Repeat to yourself in positive terms what you need to do, or be, to attain the goal, in present terms. For example 'you are confident'.
Imagine telling yourself about a time when you have displayed confidence. See, hear, feel, smell, experience the memory in all its detail, focussing on how confident you felt (or determined, focussed, happy, powerful etc).
Then think about a future event.
Visualise yourself as you would like to be, in every detail.
Rewind it in your mind's eye, and replay it but stepping inside the body of yourself, and experiencing those details from the inside.
Do this a few times for different situations.
End with the goal, even if you have used it already, visualising yourself and knowing how it feels to have achieved that goal in every detail.
I hope that this has shown you some ways in which the power of suggestion can work. Just remember – what the subconscious accepts, it acts on. That is really all it does. It works like software in a computer. So make sure your suggestions, words, intonation and beliefs are positive, and accept them. If you find this difficult, you may have opposing beliefs or previously accepted 'software' conflicting. The Power of Suggestion is just one small element of hypnotic psychology – so continue to browse the site to learn more about how this works.
Just a suggestion.