How Did I Get Into Hypnosis?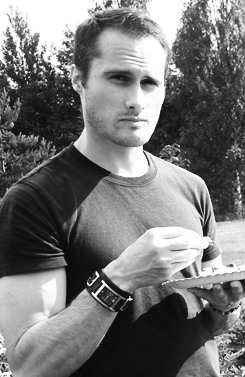 I started studying the subconscious mind from about the age of 16, with the excellent book "Psycho-Cybernetics" by Maxwell Maltz. This soon led to a flurry of hypnosis books – although I much preferred the older, retro titles to modern books. Whilst studying psychology and neuroscience at Keele University, UK, I was glad to find that the library had a fair few good books about hypnosis (I may have even "borrowed some" indefinitely).
Later, whilst living in Cheltenham, I found a second-hand book shop had recently taken in a lot of books about the mind and hypnosis, so I bought most of them. At some point I'd like to write a list of my library with mini reviews, for anyone interested in studying the mind.
I spent a weekend hypnotising a friend, with some incredible results. I was thoughtful enough to test some subconscious responses with hypnosis that would be incredibly difficult to do consciously (as a way of testing it was genuine). These included: a genuine shock response when seeing a doll levitate (because the subject was hypnotised to see me as invisible) – it is difficult to "fake" going pale with fear; and focusing the eyes on an imaginary point in space (hallucinating an object that wasn't there). This inspired me to do a hypnotherapy course, where I learned hypnosis (although I have to say, nothing I hadn't already learned), hypnotherapy, psychoanalysis and NLP (neuro-linguistic programming).
This stage of my learning was strange. It was a double-edged sword of feeling more confident to go ahead and work with people, but also steered me more towards "relaxotherapy" and away from genuine hypnosis. The problem is that the vast majority of self-proclaimed hypnotists don't understand how it works or why. Most protect against this seeming paradox with "who cares, if it works, it works!" but for me, this isn't good enough. The problem is that the definition then becomes far too wide, including light relaxation, and some practitioners even go as far as to say that "everything is hypnosis". In that frame, the concept of actual hypnosis becomes lost at sea, and almost forgotten about. My earlier experiences felt like another world compared to the relaxotherapy side of things.
For me personally, self-study and experience was vastly important. I like to figure things out, have my own ideas and theories, test them, develop in the process. Training can be excellent, but it can also be overrated. At worst, it can be destructive, because the trainer's own (sometimes misguided) beliefs and understandings then unfairly contaminate the individual. I refused to get sucked into the whole relaxotherapy and NLP thing, so studied psychotherapy to deliver some effective therapy journeys. I've never read a single script or relied on "suggestion therapy". For me its all about causality, awareness and giving the client control over things which they had forgot they were imagining.
It was only in more recent years that I returned to actual hypnosis, with a fresh, rejuvenated curiosity. I delved into the HeadHacking material from Anthony Jacquin and Kevin Sheldrake, studied more actual research on hypnosis, and went at it hammer and tongs. I've now reached my own understanding of what hypnosis is, and have a pretty firm model of how it all ties together.
The industry really is a mess though, with plenty of opinionated egos, defensiveness, competition with ever-hyped marketing and stacks of misunderstanding and irrationality. Sometimes I enjoy connecting with like minds and discussing the good stuff, sometimes I find the various communities a little irksome and a waste of time.
Professionally, I set up a hypnotherapy practice in Exeter in 2005 (when I was 25), and had some great results with hypnosis with many clients. Some of the case-studies were absolutely fascinating. Later, I also worked part time in a hospital as a stop smoking specialist. I trained again with the great Ernest Rossi (who co-authored Milton Erickon's main books) in London, and then the late legend Gil Boyne in Los Angeles. This was an incredible week, Gil was my favourite hypnotist and it was brilliant to see him in action. I'm amazed that Gil Boyne doesn't get more attention it the world of hypnosis, his philosophies and wisdom are vastly underrated.
I later stopped my practice take a break from all the thinking, and develop a more consistent income through marketing. During this time I wrote two books, and continued to study hypnosis and the subconscious whilst developing some binaural programming audio.
About Me
My name is Will Williams, I live in Exeter, Devon, UK, and am 36. I sketch, do digital media projects (e.g. Photo-mosaics), tutor a lifecoaching course, think too much, enjoy music, movies, and the company of friends and family. I'm by no means contented, I'm forever haunted by the search for something to truly belong to, and the need to somehow fully express all the stuff that floats around in my head about life, human nature, hypnosis, automaticity etc.
Anyone interested in hypnosis, hypnotherapy or NLP who wants to see some of my cool stuff (thats 'geeky' to everyone else), click here.
I studied psychology and neuroscience at university then studied more psychology and hypnosis in my own time whilst doing various jobs, before becoming a subconscious psychologist and NLP practitioner. I prefer calling it that rather than hypnotherapist because that implies "relaxing scripts", I never read a single script and the work I did was often much more intense and deeper in helping people to explore what's really going on in their heads. I'm a big fan of Milton Erickson and Gil Boyne, and adopted a mix of both of their approaches. I stopped my practice in 2008 to take a break and do other projects such as Web Design and writing books. The break has allowed some much needed time to reflect on hypnotherapy (and lifecoaching, which I tutored), which I now find in the majority to be incredibly tacky and somewhat embarrassing. I am more and more leaning towards the viewpoint that the therapy industry should be driven by education rather than half-baked techniques and journey-structures. Effectively, helping people to help themselves. The mind is a fascinating place, and I think that if people took the time and made the effort to understand a little more about psychology and neuroscience, they'd have much more awareness of the various trapdoors of bad thinking and the 'bad mental health' that comes from it. It should really be taught as early as school.
I've lived in Leicestershire, Devon, Coventry, Gloucester, Cheltenham, West Yorkshire, New York and Atlanta.
About the Hypnosis Site Itself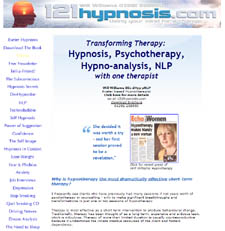 I started writing a hypnosis and hypnotherapy site to support my business as an Exeter hypnotherapist in 2004. I added pages here and there, but always felt frustratingly restricted by meeting the needs of potential customers (i.e. going down the commercial marketing road) and Search Engine Optimisation, which meant I had to frequently mention certain key phrases that people were supposedly searching for (I still do it here and there, I need to chase traffic somehow). In the end I got most of my clients through the website, so it worked out well, but I never felt that my interests and perspectives were particularly congruent with the site.
My original site was hosted by SBI (Site Build It) an American company led by 'guru' Ken Evoy. It cost $299 a year, was clunky as hell and had very limited functionality. Everything was done via a bunch of screens that took ages to load, which eventually discouraged me from wanting to update the site because it was such a pain-in-the-ass! So instead I did the whole thing myself by learning a bit of PHP and figuring out how to use WordPress. Now I make more money making websites than I did helping people to transform their lives, which makes no sense.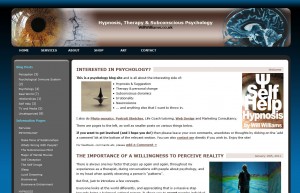 The first 'reload' of the hypnosis site gave me the opportunity to be more congruent with myself, and hopefully connect with people a little more. The second revamp was in April 2011, and was mainly to make it feel a little less stuffy and more fresh so I would feel more encouraged to add to it. I fully acknowledge that the whole thing is now just a ridiculous exercise in self-indulgence.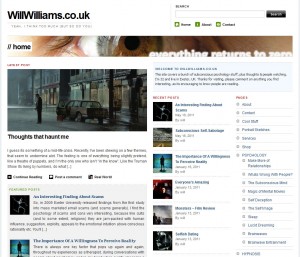 The third revamp in August 2011 returned the main domain back to 121hypnosis.com. I felt this domain was more relevant than my own stupid name, and I have now made the site a bit more commercial so that I can actually try and do something more constructive with it.
Update June 2013 – I just changed the theme yet again. I realised that all the gimmicky bullshit of various themes trying to be clever was getting in the way of efficient loading and management. So I've resorted to a bob-standard theme with minimal customisation. Faster page loading and minimal clutter should make it a better and more efficient experience for readers (I hope).