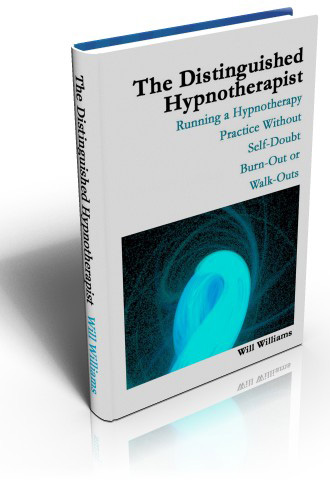 Written Purely and Exclusively For Hypnotherapists
"Hello Will I just wanted to say that I downloaded The Distinguished Hypnotherapist and really enjoyed it a lot! Without trying to generalise I have met some absolute smug ego driven wa**ers in my time particularly those who have studied a combined NLP/Hypnotherapy courses where they suddenly become 'experts' and can cure anything after a 2 week course! Anyway really refreshing to read something that is honest, helpful and very funny in places! Shame you live in Devon (I'm in London) because I would definitely be asking you for mentor/training/supervision stuff. Thanks again"
Karen in London, January 2013



Now available as an instant download – PDF and Kindle format

As a fellow hypnotherapist, you have probably noticed that the hypnotherapy industry in Britain has a few obvious problems.
Tackiness, for one.
Incompetence, another.
Therapists that don't really understand the market, and a market that doesn't really understand the therapy.
A high turnover of practitioners, evidenced by the ads that come and go each year in the Yellow Pages, and the ever changing array of weird and wacky brochures dotted about. A high burnout rate.
A polarity with competent and aware psychotherapists on the one end, and script-readers on the other.
People who studied psychotherapy, and people who sold mobile phones.
People who do relaxo-therapy, and people who do rapid, effective hypnosis.
Professionalism, and utter tackiness.
It's a minefield. It's a shame, because there is a lot of good potential at the core of hypnotherapy, but for the most part it is wasted by poor training, people wanting a career change or to make a fast buck, massive egos, and naff, naff marketing. If you think this doesn't apply to you, then you're missing the point – it applies to the market, affecting and influencing all of your potential customers.
The Distinguished Hypnotherapist is about:
the Hypnotherapy industry
the circular minefield of unreliable training
being confident about the art of hypnosis
ironing out the various conflicts that plague most practitioners
handling the impression that you make on your clients
getting a grip on marketing
becoming more aware of how you view yourself as a hypnotherapist in order to avoid the various traps that lead to burn-out
The Distinguished Hypnotherapist is written in a very candid, down-to-earth way – addressing the subtleties that most other books gloss over, answering the "what if" moments that other books miss. Its written from years of experience of handling a varied range of clients, situations and professional decisions. It challenges the reader, stimulates new thought, and will provide enough reframes for you and your practice to get you out of those ruts you may feel from time to time.
I'm aware that most hypnotherapists won't the purchase the labours of my experiences and efforts – because they are notoriously tight-fisted. Ironically, those mind-sets won't benefit from the section of the book that addresses it.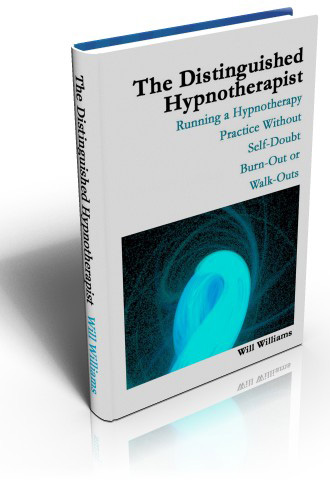 Instant Download - PDF and Kindle
14.95 GBP (approx $23.63) Instant Download
Click "Return to Merchant" after ordering to return to the download page.
Other resources for Hypnotherapy Professionals…
Milton Erickson Dynamics

An Image For Your Private Practice

A single sheet showing all the dynamics of Milton Erickson's approach to subconscious behaviour change and hypnosis. The perfect companion to reading any of his books, especially the ones co-authored with Ernest Rossi.
An excellent hi-res image of Chan Canasta, the original influence to Derren Brown. Looks great on the practice wall, and offers a fun talking point (its a small interactive game).